Training and Certification
Become a OneTrust Certified Privacy Management Professional and Earn 6.5 IAPP CPE Credits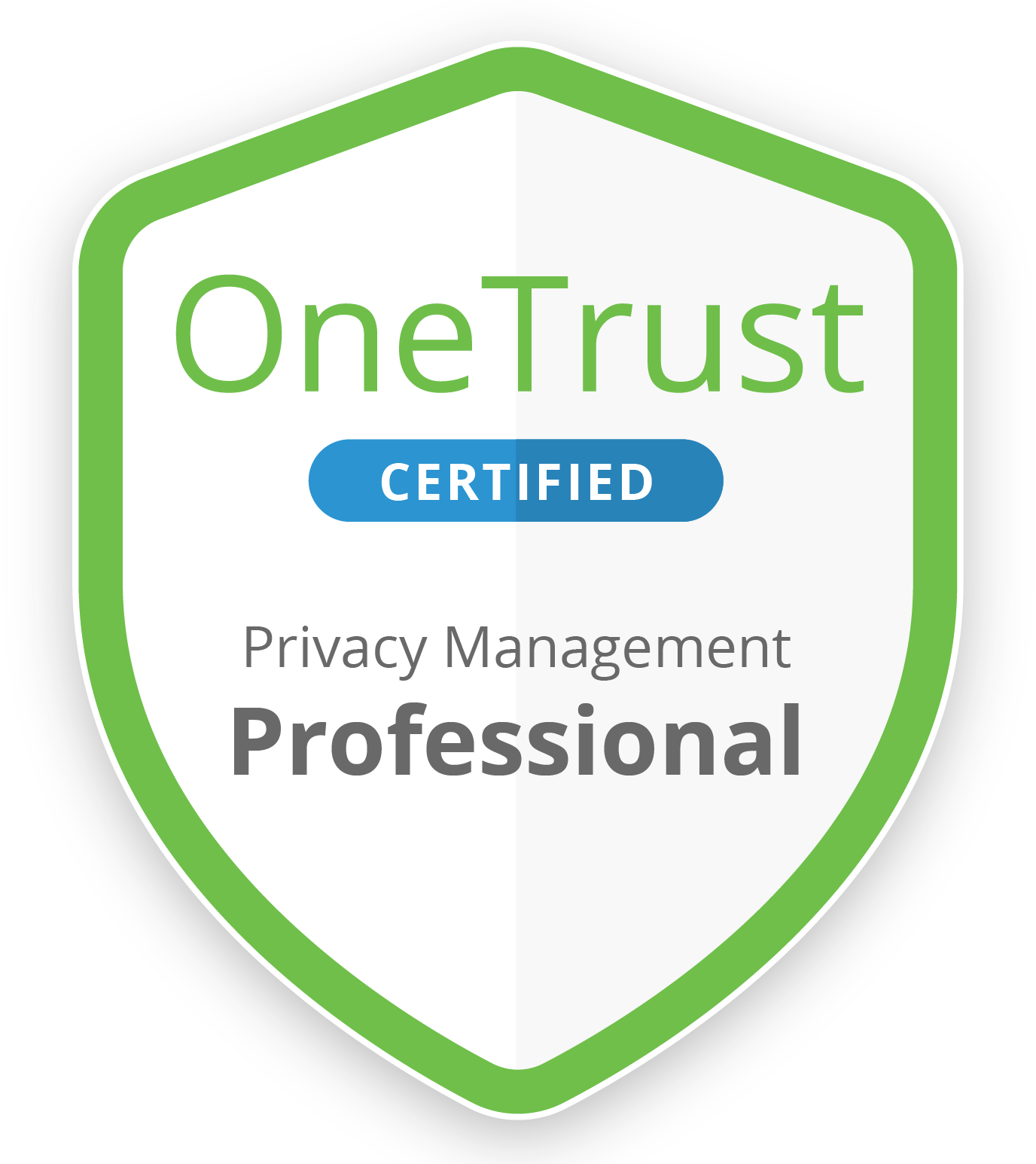 OneTrust Certification Program
The OneTrust Certification Program offers a foundation for the successful implementation and maintenance of the OneTrust tool for privacy management. The course provides interactive lectures and hands-on exercises to teach certification candidates about important articles of the General Data Protection Regulation (GDPR), operational best practices and execution in OneTrust.
What You Will Learn
Certification candidates will work directly in the OneTrust platform, following step-by-step exercises created by OneTrust product training experts. Trainers will walk candidates through the functionality of each OneTrust module, teaching you operational best practices and how to execute specific tasks in OneTrust. By the end of the training, you will understand why, but more importantly, how organizations use OneTrust to demonstrate compliance with the GDPR and ePrivacy Directive.
"At Deloitte, it's our job to provide our clients with the highest level of service possible. By being the first certified, international privacy team on the OneTrust platform, we are well equipped to not only advise our clients, but also to implement a best-in-class privacy program using OneTrust."
Annika Sponselee, Partner
Regulations Overview
Learn from a CIPP-certified privacy expert about the impact of the GDPR on you and your organization
Operational Best Practices
Gain insight into the latest operational best practices and hear practical advice applicable to you and your privacy program
Execution in OneTrust
Get hands-on experience working with the OneTrust platform, guided by product experts and alongside your peers
Perform a Readiness Assessment
Create a PIA/DPIA Questionnaire
Execute a Vendor Risk Management Audit
Manage Incident Reporting and Evaluation
Create a Data Mapping Inventory
Establish Cookie Compliance
Handle Data Subject Access Requests
Manage the Entire Consent Lifecycle
Attend to Learn About OneTrust and the GDPR
The 8-hour training course features lectures and hands-on exercises across the OneTrust platform, taught specifically in the context of GDPR and the ePrivacy Directive.
Pass the Exam and Get Certified
The 90-minute exam is available to take online at your convenience following the training. Earning certification ensures you have a general understanding of the GDPR and foundational level of OneTrust knowledge.
Who Can Attend
The OneTrust Certification course is designed for our customers and partners, but is open to any individual who is interested in enhancing their ability to operationalize privacy with software tools.
Convenient Training Options
OneTrust Certification trainings are held alongside our worldwide PrivacyConnect events, as well as monthly at our headquarters in London and Atlanta. For groups of 6 or more, OneTrust trainers will travel to a location of your choice.
Attend a monthly training course at one of our corporate headquarters in London or Atlanta.
Atlanta, GA, USA
Thu Apr 5, 2018
London, United Kingdom
Thu May 3, 2018
Atlanta, GA, USA
Thu Jun 7, 2018
Select PrivacyConnect workshops globally will host a second day certification course.
View All Courses
For groups of 6 or more, OneTrust trainers will travel to your office to train your privacy team.
Contact Us for Details
Frequently Asked Questions
To become a OneTrust Certified Privacy Management Professional, candidates must attend a one-day training course and pass an online exam. Exam questions are derived from the training materials and candidates are encouraged to use training handouts and notes to assist in their completion of the exam.
Each exam taker is required to sign a Non-Disclosure Agreement (NDA) in order to complete the exam. This is required to help ensure the exam is not degraded through open sharing of questions and answers and remains a distinguished certification for all candidates.
OneTrust Certification is valid for one year. A month prior to the certification expiration date, a free exam voucher is sent to candidates to retake their exam.
Attending a certification training session is required in order to take the exam. Exam questions are based off of certification training content and handout materials. The best way to prepare is get closely acquainted with the reference guide and support document. Remember, the exam is open note, so taking quality notes during the in-person training session is encouraged.
The exam is 50 questions covering GDPR articles, privacy best practices, and OneTrust functionality. You will have 90 minutes to complete the exam and will receive an email within a week with your exam results.
After you complete training, you will automatically receive an email with a voucher link to the certification exam. The exam must be taken online within 30 days of your certification training. To complete the exam, you simply need a computer with an internet connection.
OneTrust Certification Program attendees will be provided with an educational handbook with space for additional notetaking. Attendees will need to bring a Wi-Fi compatible laptop or device and charging cord for notetaking and activities.
After passing the exam, new OneTrust Certified Privacy Management Professionals will receive an email with their certification, a unique OneTrust Certification Identifier, and instructions for how to add the certification designation to your LinkedIn profile.