Cookie Consent & Website Scanning
Compliant and Transparent Experience for Website Visitors
Get Started
View Pricing
Relevant Regulations:
- ePrivacy Directive Draft
- GDPR Articles
• Article 7: Conditions for consent
• Article 21: Right to object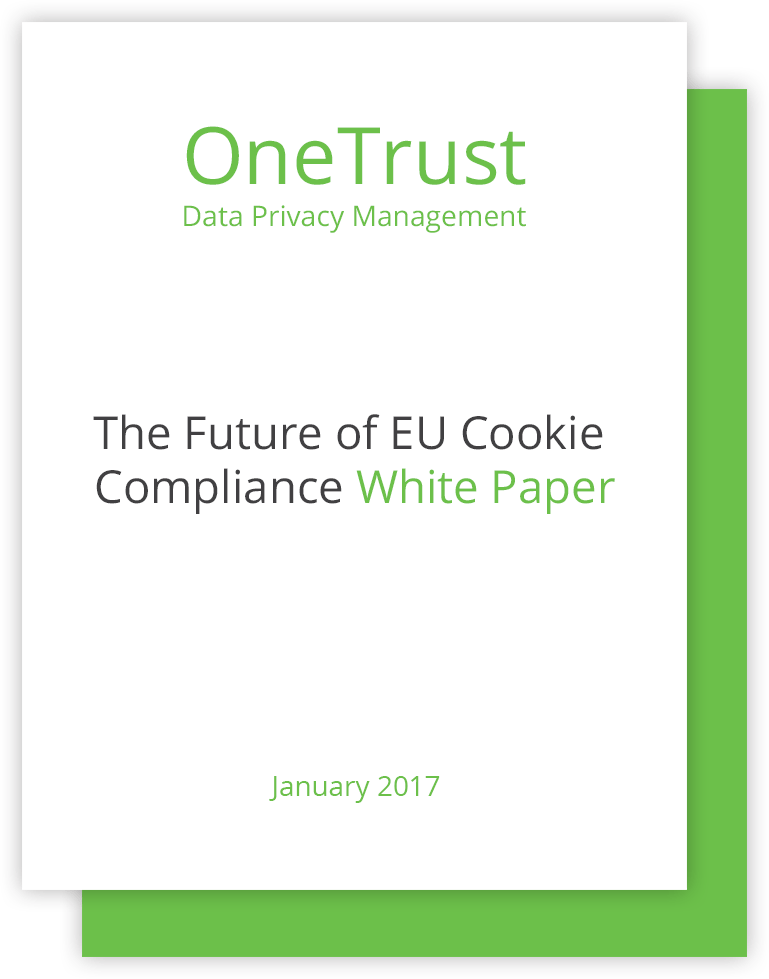 Compliance with EU Cookie Laws
Evolving data privacy regulations create consistent challenges for website owners. EU cookie laws based on the ePrivacy Directive and GDPR, require organizations to inform website visitors about the data that's being collected from them and to provide them with the choice over sharing their information.
OneTrust provides website owners with a transparent mechanism for obtaining required cookie consent from website visitors and respecting Do Not Track requests, helping organizations comply with EU Cookie Laws. Our comprehensive cookie compliance solution includes continuous website scanning against a 5.5M cookie database, flexible interface for managing visitor consent, and customizable visitor preferences center.
Continuous Website Scanning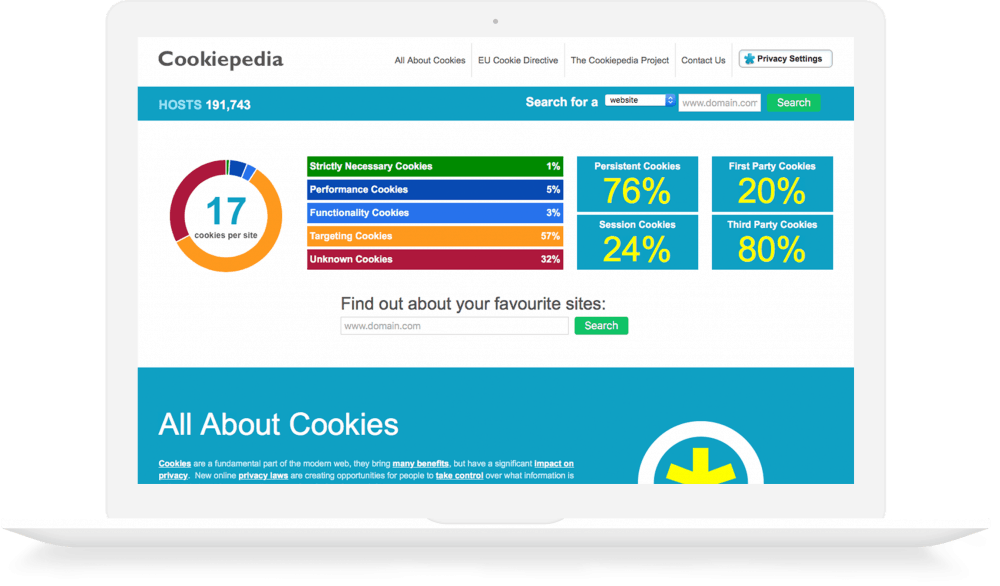 Understand How You're Tracking Website Visitors
OneTrust provides the deepest and more accurate scan of your website, identifying cookies, and other tracking technologies including JavaScript tags, HTML5 local storage, comparing results against our comprehensive 5.5M cookie knowledgebase: Cookiepedia.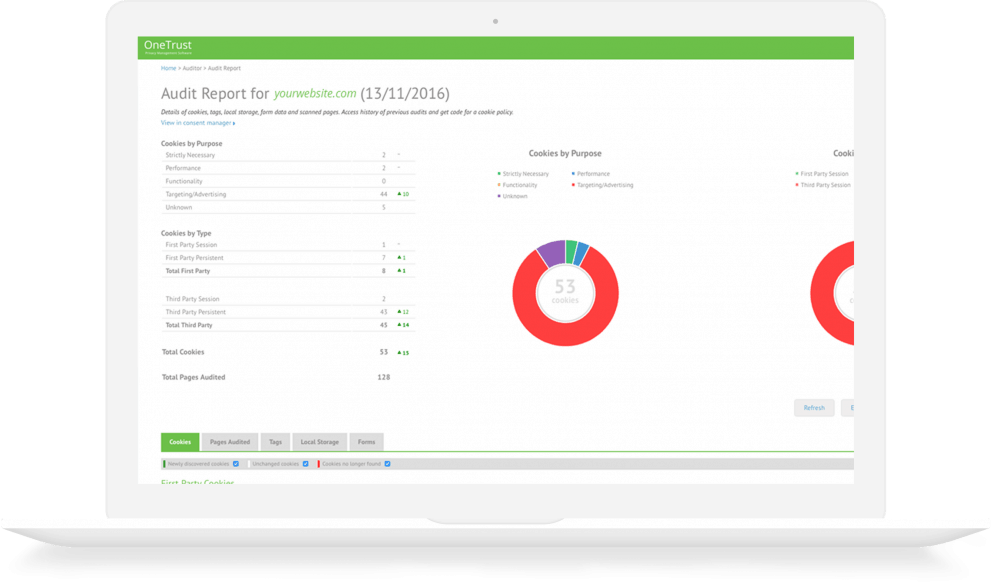 Validate the Purpose and Use of Tracking Technologies
Our interactive dashboard gives you visibility across all websites, sub-domains and pages scanned, including the ability to view detailed metadata about a specific cookie or tag, helping you validate their purpose and use of personal information.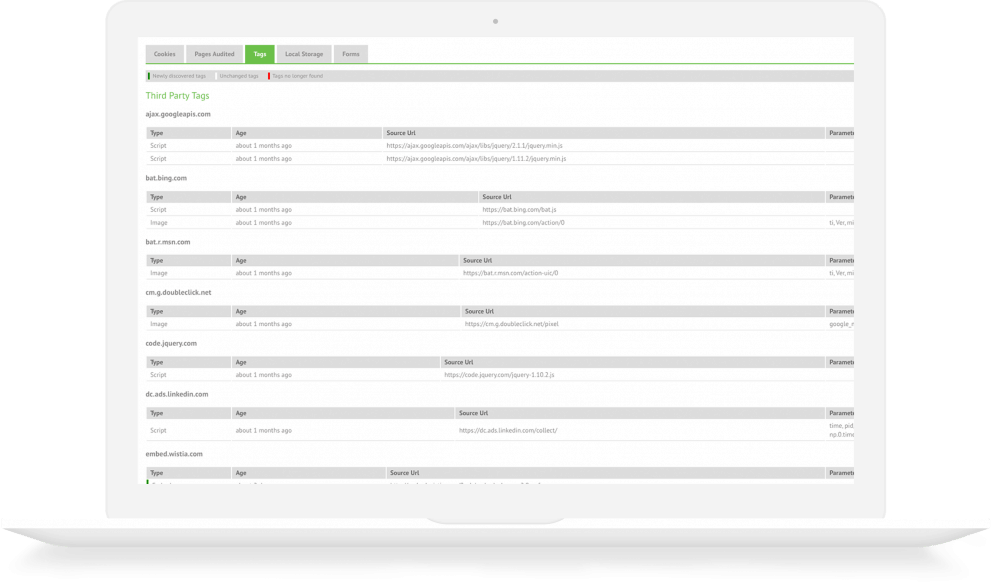 Get Alerted of Changes to Your Website Over Time
Website scans are performed automatically based on a configurable schedule, helping you identify the tracking technologies that are new, unchanged and no longer active on your website.
Flexible Consent Management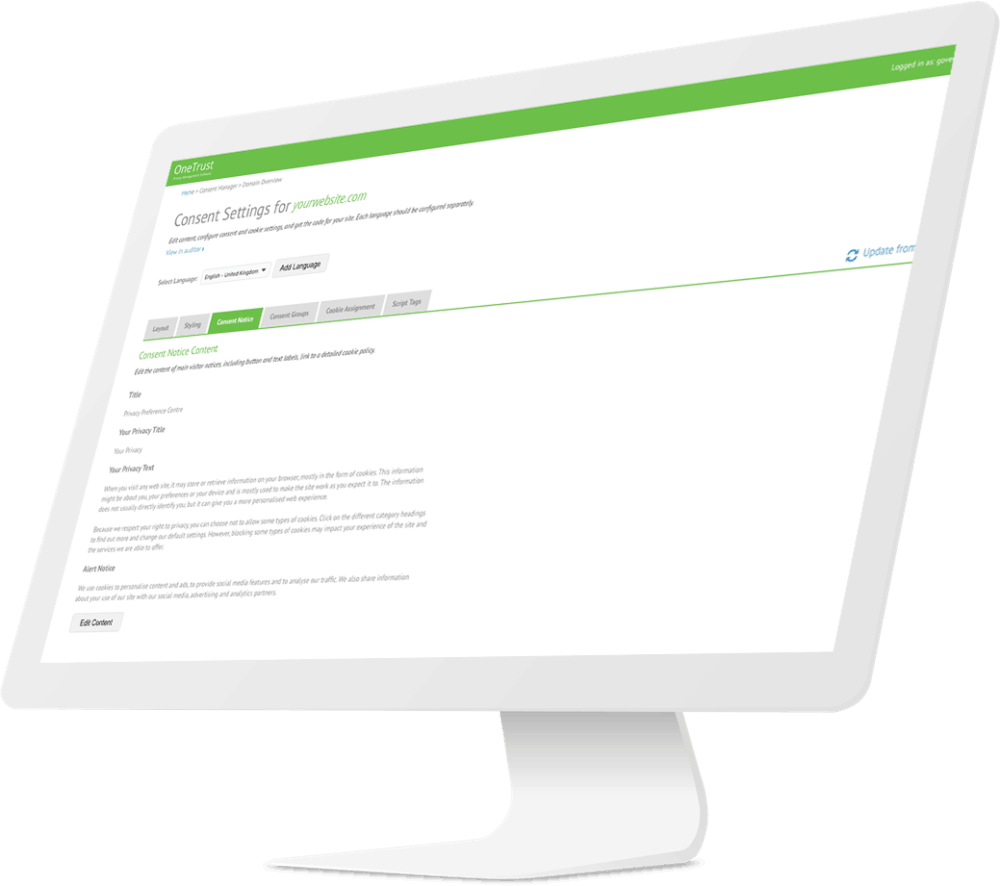 Obtain Clear Consent from Website Visitors
Customize the notice visitors receive the moment they land on your website. Provide them with complete transparency and choice to accept the use of cookies as defined by your policy or define their own preferences.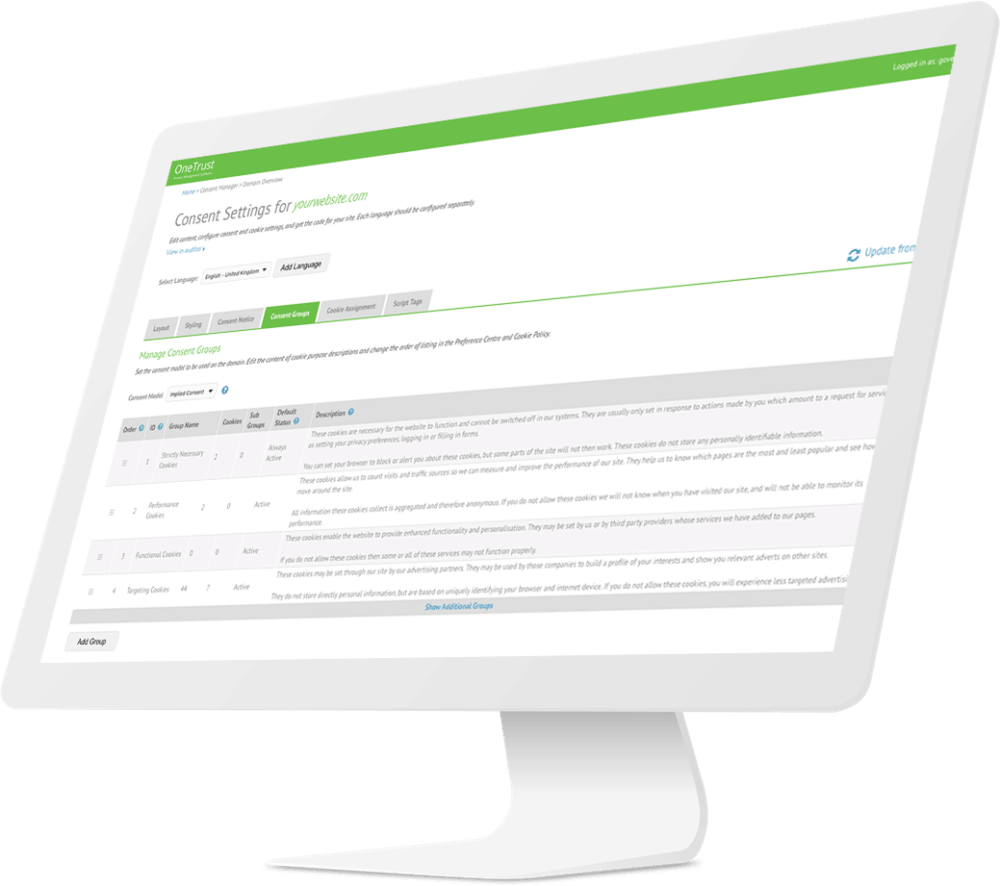 Tailor the Experience based on Visitor Location
Based on the location of a website visitor, OneTrust enables you to customize the experience, including the consent model and language used across the visitor notice, cookie policy and preferences center.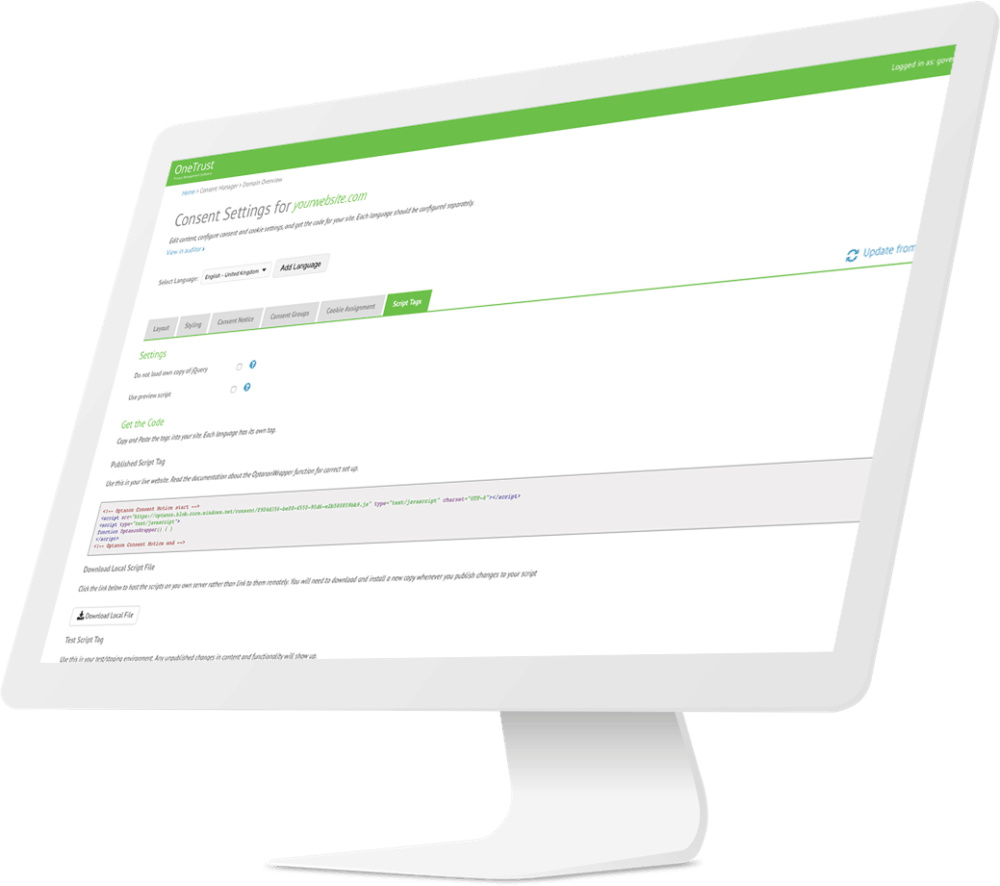 Easy for Developers to Implement across Your Website
Our consent management solution is JavaScript-based, which makes it easy for developers to implement across your website, including content management systems (CMSs). OneTrust is also compatible with Google and Tealium Tag Management solutions.
Customizable Preferences Center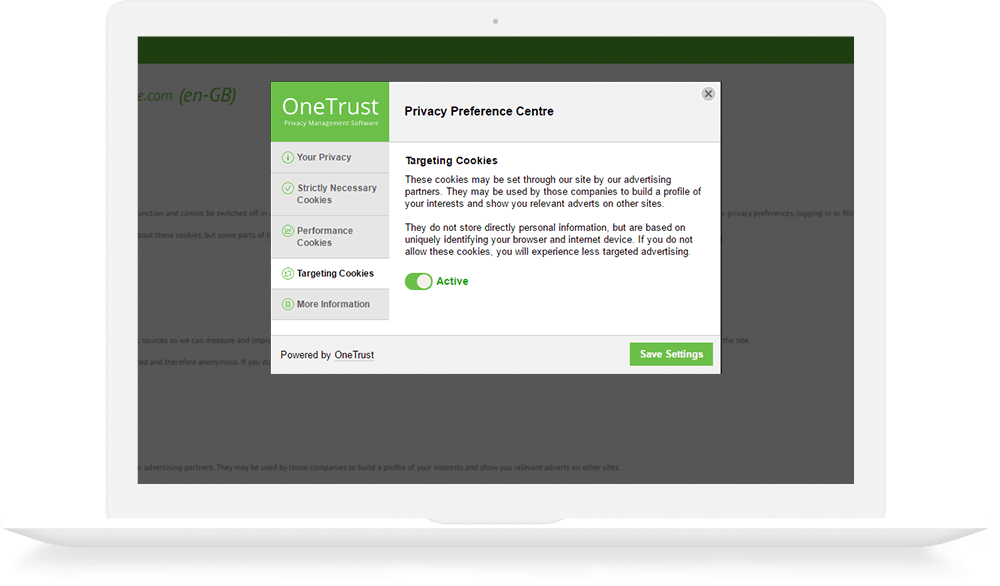 Give Visitors Choice at All Times
Visitors can easily manage their cookie preferences at any time using our preference center, which can be embedded on your website, and features the cookie options you have customized in OneTrust.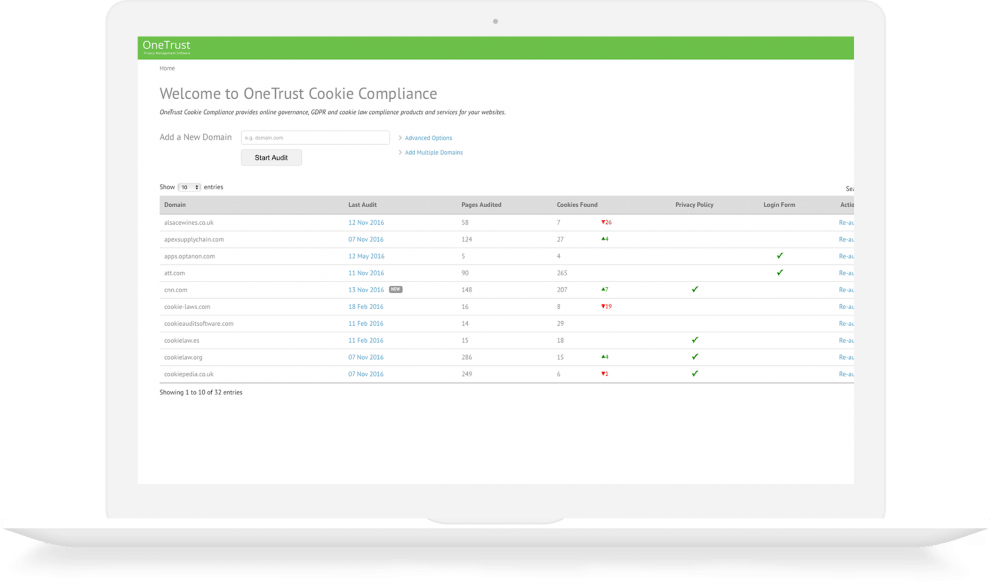 Respond to Visitor Do Not Track Browser Requests
For visitors with the Do Not Track setting enabled on their browsers, configure which tracking activities will be blocked, and present them with the option to override their default setting while on your site.
Why OneTrust Cookie Compliance?
Cookie Compliance
Compliance with EU cookie laws: ePrivacy Directive and GDPR
Website Scanning
Continuous website scanning against largest cookie database
Consent Tools
Easy-to-use and customizable website visitor consent tools
Integrated Platform
Integrated with OneTrust privacy management platform