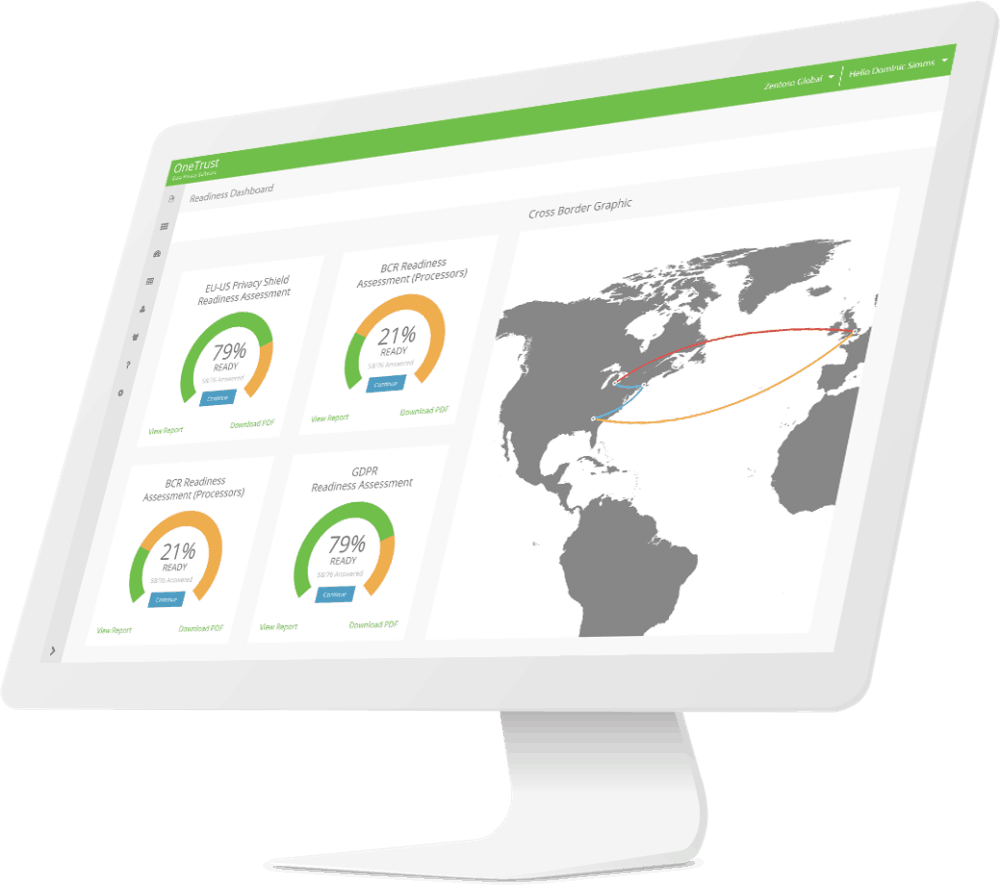 The Leading Privacy Management Software Platform
Used by over 1,000 organizations globally to comply with data protection and privacy regulations across sectors and jurisdictions, including the EU GDPR.
Request Demo
Allianz Selects OneTrust for GDPR Accountability and Compliance Globally
Read More
What We Do
Comprehensive Enterprise Privacy Management Software to Operationalize GDPR Compliance and Privacy by Design
Subject Access Request Portal
Capture data subject requests directly within a web form linked on your privacy policy, and maintain records of fulfilling requests based on regulation specific requirements.
Consent Receipt Management
Track granular transactions of consent, provide access to data subjects to allow withdrawal of consent, and maintain internal records to respond to regulatory inquiries.
Vendor Risk Management
Maintain a central inventory of vendors, data transfers and legal and contractual obligations with ability to continually audit for vendor security and risk evaluations.
Incident & Breach Management
Maintain incident and breach records, evaluate against notification requirements, and analyze overall risk with connections to underlying data inventory.
How it Works
Flexible Across Jurisdictions and Frameworks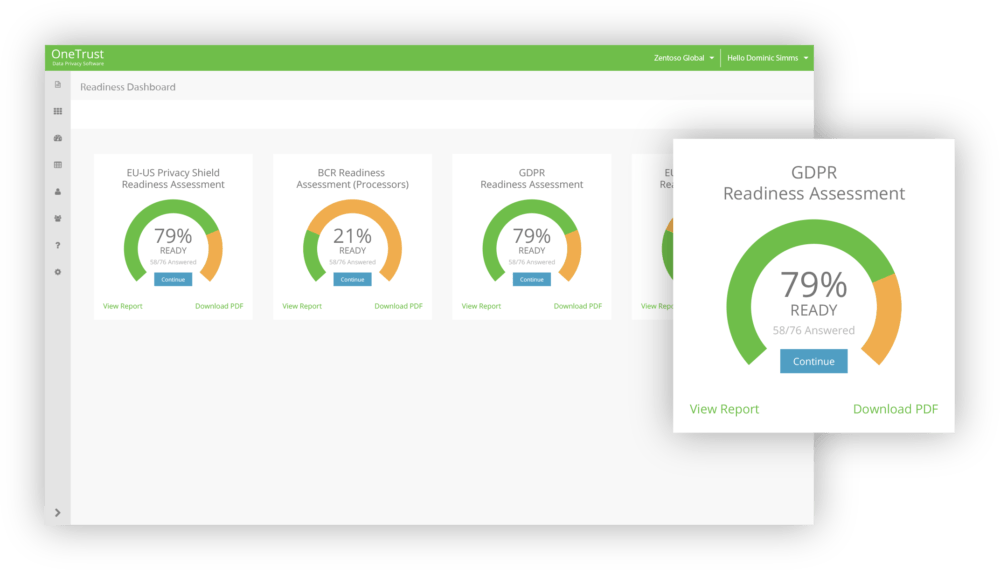 Across Business Initiatives
OneTrust is used across privacy, legal, compliance and information security departments to comply with privacy rules and regulations.
All Privacy Jurisdictions
Our team of privacy experts are continually updating our product to align with global regulations, industry programs and privacy frameworks.
For Controllers and Processors
Gain peace of mind knowing your organization is taking action to protect data flows across customers, employees, and vendors.
All Program Maturity Levels
OneTrust is designed for privacy programs across maturity levels with standard templates for early programs and customization for advanced programs.
How We're Different
Global Team | Comprehensive Platform | Trusted by 1,000+ Brands
Most Comprehensive Offering of Technology Modules
Software you can grow into, not out of with a modular and integrated platform with the largest engineering team in privacy management
Most Flexible and Easy to Use Software
Simple point and click interface to easily customize questionnaires, reports and settings creates the most flexible data mapping solution in the industry
Mature and Scalable Platform Used by 1,000+ Organizations
Mature product architecture making it easy to manage matrixed organizations across legal entities, M&A activity, and business groups
True Deployment Flexibility in EU Cloud or On-Premises
Deployment option flexibility with the ability to easily transition if requirements change
Ecosystem of Enterprise Technology Integrations
Open API framework to integrate with existing systems, and the only RSA Ready Technology Partner officially certified
Largest and Fastest Growing Dedicated Global Team
Co-headquartered across the EU and US with global multi-lingual team approaching 150 and product in over 30 languages
Deep Privacy Research and Ongoing Updates
Knowledge powered by regulators, lawyers, privacy professionals, and dedicated research teams
Global Consulting, Training, and Privacy Experts
Large team of privacy professionals, legal experts, technical delivery and project management experts available globally
SmartPrivacy Global Training Workshops and Partners
Largest offering of global workshops in the privacy management industry and global network of law firm and consultant partners
Powering the Most Tools for the IAPP Community
Selected out of all vendors to provide Readiness, PIA, Data Mapping and Cookie Compliance tools for IAPP global community